Social Security of Our Citizens Working Abroad
Social Security Agreements provide various rights such as;
Equal treatment of citizens of both parties in terms of rights and obligations,
Aggregation of periods of insurance completed in the territory of the other contracting party for the determination of entitlement to a benefit,
In case of an illness, the insured person and his/her family members can avail themselves of the right to healthcare benefits while staying in the territory of the other contracting party,
Family members can avail themselves of the family benefits (child benefits and increments) while residing in the territory of the other contracting party,
Entitlement to a retirement pension for an insured person, who attains the required age after returning to the other contracting party,
Continuing to receive the pension, acquired regarding the employments in one of the contracting parties, after transferring of the residence to the other contracting party,
In case of death of the insured person, family members residing in the territory of the other contracting party can be entitled to a widow's or orphan's pension and a lump sum payment as the survivors of the deceased.
Accordingly, those who will avail themselves of the provisions of the agreement are considered equal in the legislations of the contracting parties to the citizens of that country in terms of rights and interests through a common and key provision of the agreements. Thus our citizens employed in the contracted countries and their dependents can benefit from their social security rights under the same conditions as the nationals of that country.
As a result of the social security agreements, our citizens in Turkey have the opportunity to avail themselves of their social security rights, arising from the legislation of the other country and acquired with respect to long and short term insurance branches. In addition to the insured person himself/herself, his/her family members living with him in the country of employment, the family members living in Turkey can benefit from this right.
Turkey has signed Social Security Agreements with 28 countries. These agreements are enumerated in the table below.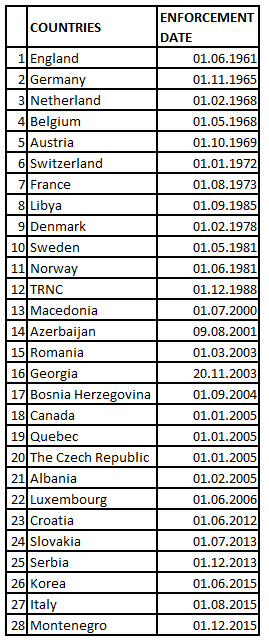 Legal Notice: The information in this article is intended for information purposes only. It is not intended for professional information purposes specific to a person or an institution. Every institution has different requirements because of its own circumstances even though they bear a resemblance to each other. Consequently, it is your interest to consult on an expert before taking a decision based on information stated in this article and putting into practice. Neither MuhasebeNews nor related person or institutions are not responsible for any damages or losses that might occur in consequence of the use of the information in this article by private or formal, real or legal person and institutions.